I hope you enjoy this excerpt from the Press Release as much as I was thrilled to receive this prestigious award on behalf of the Gentleman for whom I built the gun!

Every fall sees the gathering of fine gun enthusiasts for The Vintage Cup, to contest the World Side by Side Championships. This year's event was held September 17th - 19th at the superb Orvis Sandanona facility in Millbrook, NY.
Organized by the Order of Edwardian Gunners or Vintagers, the event is also host to the "Gold Medal Concours d'Elegance of Fine Guns".
Under the aegis of the Gold Medal Concours, many of the finest and most historically important shotguns and rifles are submitted by both the amateur and serious collector for display and juried selection for a number of awards, according to type and category.
One of the most prestigious categories is the Boothroyd "Peoples Choice" named in honor of Geoffrey Boothroyd, the British writer and authority on fine guns. Chosen by popular ballot from the visitors to the exhibition, the winning gun is invited for display at the National Firearms Museum in Fairfax, Virginia.
The "People's Choice" this year was the Charles Boswell 28 gauge Over and Under, pinless round action, sidelock ejector, with 29 inch demi block barrels, choked modified and improved modified, weighing 5lb and l2oz, featuring full deep relief,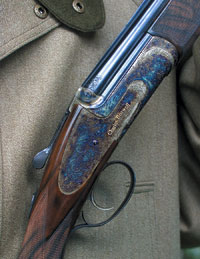 flowering vine and scroll engraving on action, barrels, grip cap, heel and toe plates, all bone and charcoal colour case hardened and complemented by Circassian walnut of exhibition quality.
This is the first of the new Boswells, a name revived by British Gunmaker Chris Batha. He acquired the records and goodwill of the Charles Boswell Gunmaker Company in January of 2004 and began a race against time to attempt to design and build the gun in time to enter it into the September Gold Medal Concours.


Batha personally delivered the gun to each of the individual craftsmen who worked on the gun and called in every favor to rush it to JFK for delivery on the eve of the show. Batha says "It could not have happened without the help and support of many skilled and talented friends and I owe them all a real big thank you".
A Best London gun of this impressive quality typically takes 18 to 24 months to build; Batha completed this gun, from scratch, in 9 months. " It was every bit as trying, exhausting and exhilarating as having a real baby, creating this Baby Boswell!" he exclaimed.
The gun was well received by the media. Well-known author and writer Douglas Tate is committed to an article for The Shooting Sportsman and will research the history of the Charles Boswell Gunmaker Company and describe the direction it will take today and professional gun photographer Terry Allen is scheduled to photograph the gun.
Only six (6) guns will be made a year, with a guaranteed delivery time of 12 months or less. Batha is convinced that this is the only way to ensure both quality and delivery time and will personally oversee the building of each and very gun.
The guns are available in both Side by Side and Over and Under configurations, in any gauge and Double Rifles will be available in all calibers. Prices start at $39,500.00.
---
CBSS Now HAS AN FFL AND IMPORT LICENSE!

Since The Chris Batha Shooting School (CBSS) has been associated with FAMARS di Abbiatico & Salvinelli, so many of our customers have been ordering shotguns and rifles that it just made sense to get the permiting in order to be able to help expedite the importation and delivery of the guns from Italy.


---
And now that the Charles Boswell guns are in full production, we can import and deliver shotguns and rifles from England as well.
Our services will include: applying for the ATF Form 6, handling the delivery and importation papers, processes and taxes and, if appropriate, the insurance and delivery to your local FFL/ Gun Dealer.
We do not (and will not in the foreseeable future ) have a retail storefront as we do too many Shooting Schools, Shows and Wingshooting trips to be onpremise at all times.
---
We will, however, have a stock of
Demonstrator Guns from FAMARS available for seeing and shooting by appointment. When we are "On The Road" at the various Shooting Schools and Shows, we will have these guns with us as well.
These licenses will enable us to provide more services for our customers and simplify (if the array of federal forms can be called simple!) the importation process for us all. If you have any questions or want us to assist you in this area, just call us, Toll Free at 866-254-2406. We look forward to working with you in the near future!
Page 6