As one Hunting Season after another has its opening day, the Schneibles at British Sporting Arms have opened their season with some wonderfully practical and attractive attire and accessories for the field. To order their latest catalog or any of the items shown here, call 800-318-8693 or visit their website www.bsaltd.com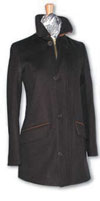 The Bloomsbury
Ladies' Jacket

The Best of British Tweeds, hand-tailored and elegant.
Color: Black Chocolate Loden
Sizes: 4-12 $765.00
The Crown Shooting Boot by Hunter of Scotland



Waterproof, full-grain leather, with the eVent dry system membrane lining, cushioned insole and welted Commando outsole.
Unisex sizes: 4 to 14 $440.00

Bill Amberg
Leather Gunslip



Light-weight, opens out flat and can be rolled or folded to fit in luggage. Single or Strapped- together Pair which can be used separately. Bridle leather, With moisture-wicking fabric lining. Single: $585.00 Double: $1075.00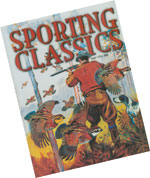 When Sporting Classics magazine was first created twenty-four years ago, the field of outdoor publications was pretty well populated, some would say, over-populated. There were so-called magazines for every conceivable activity and quarry in the world of hunting and fishing, it seemed.
But the founders of Sporting Classics had a different concept: They wanted to create a venue where the best art and literature of the genre, both past and present, had a showcase.

They called it "Classics" because they felt the outdoor writers and wildlife artists of by-gone eras should not be forgotten - that those giants and pioneers of the past had as much to offer the reader of today as they did the readers of their era.
Today, the tradition continues. Each issue combines the classic and the current, for the information and pleasure of the lucky subscribers. The latest in shotgun technology precedes a fish tale as old as all outdoors. In addition, the lavish use of original art work and illustrations is a visual celebration of every sport depicted.
It's a well-known fact that readers keep, even collect, their Sporting Classics magazines... every well-thumbed issue can be a valued reference or a walk down memory lane.
To subscribe to Sporting Classics, call 800-849-1004 or visit
www.sportingclassics.net
Sporting Classics Magazine, P.O. Box 23707, Columbia, SC 29924.
As children we often have to experience a sensation to understand a word. You can be told "Hot" ten times, but it is only when you touch and feel the heat that you really understand what "Hot" means.
In the same way, I could never under-stand why, given the choice, someone would opt for a pair of heavy hunting boots in preference to one of the modern lightweight styles. Well, while shooting quail in Texas this January, I really learned what the word "Cactus" means… it means "Pain"!
Those needle-like cactus spikes can penetrate the sole of a boot like a hot knife through butter! I quickly understood the value of a boot of solid construction.

But I still did not want unnecessary weight. Then it occurred to me that if a boot could prevent a snake bite, it must be cactus-proof! So, if you join me in the South this season for some quail shooting, you will find me resplendent in a pair of Chippewa Lightweight Snake Boots. Light weight, tough, durable and comfortable with light leather inside, heavy leather and some amazing "ballistic snake-proof" material on the outside, I can now go where I previously feared to tread!
To find the Chippewa dealer nearest you, go to www.chippewaboots.com.
Page 15