This past year, my experience with the Charles Boswell Shotguns has been a little like London busses- you wait an hour for one, then three come all at once!
Well, I have spent a lifetime gaining the experience to build a Best Gun, and was delighted to win last year's "The Geoffrey Boothroyd People's Choice Award" for the Best Gun in The Gold Medal Concours d'Elegance of Fine Guns at The Vintage Cup with the Boswell 28 Gauge.
You can understand my amazement when the visiting gun enthusiasts at this year's Vintage Cup voted the new Boswell .410 the winner of "The Geoffrey Boothroyd People's Choice Award" !
I do have to say that this gun is special - a very rare .410 Over and Under on a true proportionally-scaled action. The modified Boss action on which I chose to build the gun was unique - a combination of a round and square action. This gives the pleasing sleek lines of the round, but allows the "tear drops" on the head of the stock where it joins the action which was a request from the client. Remo Salvanelli deserves great credit for this unique feature of the gun (it helps to have a gunmaking genius on your team!)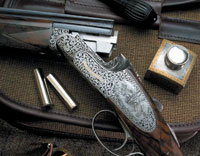 2005 - 410 Cauge Boswell
Also at the client's request, the gun was built with 30 inch demi-block barrels and magnum-proofed for 3 inch cartridges. I was able to choose a spectacular piece of Circassian walnut, by traveling to the IWA show in Germany to meet directly with the Turkish importer and getting first pick of this year's delivery of the very best in stock blanks. I was well-rewarded when the shaped and finished stock was oil finished and chequered. Its honey hues and well-figured grain greatly complimented the full game scene engravings by Diego Bonzi.

The gun was commissioned with illustrations of the quarry for which it is to be used - bob white quail, red leg partridge and woodcock. The engravings are magnificent! It is little wonder that Mr. Bonzi is fast becoming the engraver of choice for many collectors.
Traditionally-stocked with Prince of Wales grip and push rod forend, the crisp chequering and well-thought-out combination of light weight but steady handling from the long barrels, makes this one of the straightest-shooting guns I have tried to date.
My adventures with Charles Boswell are proving to be a great success. My partnership with FAMARS di Abbiatico & Salvinelli allows me to make a Best Gun at a third of the price that the comparable competition can, without sacrificing the handling, finish and quality of a Best London Gun. I have four single guns and several pairs in production.
One is a two barrel 20 – 28 gauge set, which is going to be truly fantastic with exhibition-grade walnut and a full fantasy game scene by Diego Bonzi. Perhaps, just like the London Busses, after a long wait, three Boswells and Three Boothroyds will arrive at once! Fingers crossed!!

Charles Boswell was the son of a Butcher; he was born in December 1850 in the village of Hertford, north of London. A passion for shooting and a keen interest in guns led him to enter servitude to become a gunmaker at the age of 14.
Beginning with Mr. Thomas Gooch, a traditional gunmaker in the village of Hertford, young Boswell progressed to gain employment in the Royal Small Arms factory in Enfield. On completion of his apprenticeship, he married and opened his own business in Edmonton, with repairs and gun fittings comprising the majority of his early work.
He was a competitive live pigeon shot of some considerable talent and his frequent wins at Hendon Shooting grounds and Hornsey Wood soon brought him to the attention of his fellow trap shooters. By the mid-1870's, he had developed a substantial business in the fitting and making of custom pigeon guns.
Preferring to use tried and tested patents of other manufactures, his guns established a reputation for quality and reliability, as a result, many were sent abroad.
In June, 1883, he moved to the address with which he is most associated, 126 The Strand, London, WCI. As manufacturing live pigeon guns were his specialty, it is little surprise that the recession following the First World War and the banning of live pigeon shooting greatly affected his business.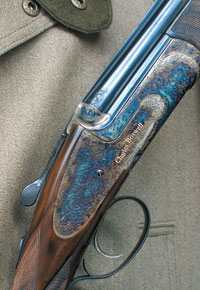 2004 - 28 Gauge Boswell
The live pigeon gun was Charles Boswell's trade mark gun, and there are many spectacular examples still put to good use today.
It was Boswell's reputation and his tradition for making superbly reliable, perfectly balanced, good-looking competition guns that made me decide to resurrect the name and begin the manufacture of exquisite small bore game guns and the finest of bespoke competition shotguns available anywhere.
I believe the affinity between Boswell and myself, in our initials (C.B.), our competition experience and gun-fitting expertise, would have made Mr. Boswell approve of my new tenure and the continuation of his traditional gunmaking skills.
Charles Boswell shotguns are available today in both Side by Side and Over and Under in all gauges. Prices start from $45,000.00. Bolt action rifles in any caliber start from $17,500.00. Live Pigeon and Competition shotguns are our specialty.
All repairs, new barrels, sleeving, re-stocking to complete renovations are undertaken in our London workshops. We also offer a full USA Importation Service and are happy to extend this service to any make or manufacturer.
Page 8