I, however, am lucky enough to have, among my sporting acquaintances, a strong friendship with the owner of a wonderful estate in Scotland. Convenient to both Edinburgh and Glasgow, this estate offers some of the best shooting opportunities, both driven and walked up, in the UK. The excellent shooting, combined with the superb accommodations and exceptional food, makes this the perfect lodge from which to sample the very best of mixed bags.
November 2004 & January 2005

I have reserved three weeks shooting at this Scottish Estate in November 2004 and January 2005. They will be for teams of 6 to 8 guns and can be complete teams or single guns. Non-shooting partners are welcome and excursions to Edinburgh and Glasgow can be arranged.
The reserved dates are:
November 8 to 13, November 15 to 20, 2004 and January 3 to 8, 2005.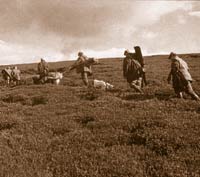 The trips will be of 5 days duration with 4 days shooting:
•Day 1: Arrive
•Day 2: Rough Shooting followed by Evening Duck Flight.
•Day 3: Driven Day-150 birds.
•Day 4: Morning Goose Flight followed by Rough Shooting.
•Day 5: Driven Day-150 birds.

Total cost for accommodations and shooting is $3,300.00 per shooter. The cost for non-shooting partners is $900.00 per person.
This price does not include flights, transport, telephones or liquor.
UK insurance, licenses and transport can be arranged at a nominal charge.
The three weeks will be booked on a First-Come-First -Served basis and a 50 percent non-refundable deposit is required to secure your place or places.