The Mashomack Club
If you have ever lived in London you will recognize the expression " you wait an hour for a bus and then three come all at once".
I felt a little like this when, just before the Vintage Cup, I was contacted by David Theringer, the manager of the Mashomack Club in Pine Plains, NY and asked if I could stand in for Ken Davies of Holland and Holland ! Due to personal reasons he would be unable to make his annual visit to the Club.
I expressed my sympathies and passed on my best wishes to Ken, but did express a little apprehension at having to walk in his footprints. After all, Ken Davies must be the most acknowledged and recognized shooting instructor in the world today. Big shoes to fill, indeed!
Well, my Summer/Fall schedule DID have a week free… I would be travelling back from a school at the Timberdoodle Club in New Hampshire to the Ford Plantation in Savannah, GA . Following many emails, faxes and phone calls, I spent the first week of October at the Mashomack Club.
What a wonderful facility! The Mashomack Club is set in 2,500 acres of pasture and cultivated fields abutting a national park between The Berkshires and The Catskills. The main house overlooks the tranquil beauty of the Halcyon Lake and is a delight both for its décor, art and antiques. The Club is a private members-only facility and offers its members and their guests superb wing shooting, fly-fishing and a number of equestrian pursuits in which Polo features strongly.

While there is a 15-station Sporting Clays course, I gave most lessons on the Skeet Field, where the high tower conveniently is placed to present a good example of British Driven Wing Shooting. This was the aspect of shooting for which I got the most requests for instruction.
I would like to thank the members for their kind invitation, the staff for looking after me so well. They made the visit very special and I can fully understand why Ken has made it a firm date on his calendar for so many years.

A. Galazan Tour
What does this have to with buses you may ask? In the middle of the Mashomack Club Week, I had a day off! I have always wished to see Tony Galazan's factory and gunroom in Connecticut, and being so close, I could not resist calling and Tony kindly invited me to visit.
I have been rattling around the gun trade now for more years than I care to recall and so have visited gun manufacturers' workshops and factories throughout Britain, Italy, Spain and Belgium. All are worth the visit; some are State of the Art, where others are still as our grandfathers would have seen them.
The Connecticut Shotgun
Manufacturing Company
Having long admired Tony Galazan's guns, both for the engineering genius behind them and for the sheer quality they display, I was frankly blown away by his operation. Nowhere have I seen quite such a complete operation!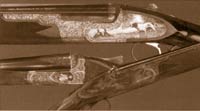 Yes, there are workshops that have embraced the CNC and CAD/Cam technology to remove the drudgery of filing away large amounts of unwanted metal and yes, there are finishing shops where the traditional gunsmiths arts are displayed, but it is a simple fact that at Galazan's everything, and I mean everything, is both made and finished in house!
Every Lock, every Stock and every Barrel including every spring, bent and tumbler is built there. All case- colour hardening, blueing, chequering and engraving are in-house. The only exception is in the case of the client who requests engraving by the foreign masters.
AH Fox, Model 21's and, of course, the Galazan Over and Unders and Side by Sides are all built in-house from scratch to finish and display some of the most innovative engineering outside of the Fabri factory in Italy. This is a remarkable achievement and seeing it made for a remarkable day off. Thanks again , Tony!
Oak Tree Gun Club In CA
January 28 - 31, 2003
The Oak Tree Gun Club is our first West Coast Shooting School in 2004. This first-class facility offers a complete Clay Shooting experience! The variety of targets, the interesting terrain and the great staff and Club House make this a favorite place to teach.
The One Day School starts on the Skeet range with video-taping, followed by a classroom session, video review and then Lunch at The Club.
In the afternoon, it's on to the Sporting Clays! The Oak Tree course winds through canyons and hills, presenting a challenge to all levels of shooters. It's the ideal place to practice the target tactics you've learned in the morning session.
Looking forward to seeing you in CA!

Shooting Schools 2004
---
Savannah, GA
January 8 & 9
• Gunfittings - January 10

Los Angeles, CA
January 28,29 & 30
• Gunfittings- January 31

Richmond Hill, GA
February 20,21 & 22

Cordoba, Argentina
March 31-April 5

Savannah, GA
April 8 & 9
• Gunfittings - April 10

Manassas, VA
April 15 & 16
• Gunfitting - April 17
---
---
The Antique Arms Show
Las Vegas,NV
• January 15 -18

Safari Club International
Reno, NV
• January 21 - 25

The Southern Side by Side Championships
Sanford, NC
• April 23 - 25

The 2004 Side by Side Festival
Cincinnati, OH
• May 14 - 16

The Upper Peninsula
Side by Side Championship
Channing, MI
• June 18 - 20

The Vintage Cup
Millbrook, NY
• September 17 - 19

Page 6