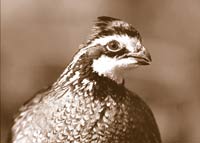 Join me for a series of One-Day Wing & Clay Shooting Schools tailored especially for the upland hunter.
Highly skilled guides, world class pointing dogs and fast hard flying bobwhite quail ensure even the best shot will be challenged.
One-Day Sporting Clays Schools
Cost per student is $550.00 with a maximum of 4 students and includes all clays, gun club fees and lunch. Ammunition is not included.
One-Day Wing Shooting Schools
Designed specifically for Wing Shooters, these schools are limited to 4 students only.
Cost per shooter is $750.00 and includes all clays, gun club fees, lunch, wagon, guide, dogs and 8 quail. Additional birds are $10.00 each.
Ammunition is not included.
Gunfittings
Cost $300 - 4 slots available
Ford Plantation Weekend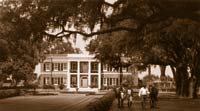 The Historic Ford Plantation, just South of Savannah, GA, is planning a very special weekend, February 20 - 22, 2004.
Only 12 guests will stay in The Ford Plantation's Guest facilities, and will enjoy a wonderful array of activities:
One-Day Wing Shooting School with Chris Batha at The Dorchester Shooting Preserve: Four students start with Sporting Clays, a Southern-Style Lunch, and in the afternoon guests, guides and dogs hunt fast-flying Bob-white Quail.
Golf, Equestrian Activities and Tours of Historic Savannah
This Ford Plantation Weekend is $1500.00 for the Shooting Participant; Non-Shooters are $200.00 per day. All accommodations, meals, plantation activities and on-site transportation are included. A 50 percent deposit is required.
The question most frequently asked at Shows and Schools is "How difficult is it to travel with my guns to the UK?"
The answer is: if the correct paperwork is put in place, it's very simple and hassle free.
How To Do It Going Over...
If you are intending to visit the UK to shoot, you need to ask your host or agent to apply for a Temporary Visitor's License. They will require your full name, date of birth, occupation and address. All the guns you bring need to be described by make, gauge, type and serial number.
If you wish to purchase guns while in the UK, ask your host/agent to include the gauges you wish to purchase, 12, 20 etc., in the application.
The application generally takes one month to process, so the earlier you apply for your visitor's permit the better.
When the license is issued, your host/agent will mail it to you in the US. When you arrive in the UK, your guns (having been declared in the US when you booked in) will be taken through to

customs. After clearing immigration and collecting your bags, you will proceed to the customs hall.
There you will find your guns waiting for you. On producing your visitors permit, the customs officer will check your guns against the permit and wave you on your way.
... And Coming Back...
On your departure from the UK, you will declare the guns when booking in. A security guard will escort you through customs where the same procedure you experienced on entering the country occurs. You then pass through a security screening of your gun cases, and finally, they are taken from you and placed directly on the plane.
Be sure that you have applied for the appropriate temporary export and return forms for your guns from USA Customs before beginning your journey.You will need these to bring them back into the USA to avoid paying duty on them.
I hope this helps you have a successful and hassle-free trip to the UK!


"Mastering the Double Gun"

A Unique Approach to the Instructional Video with Chris Batha & Bruce Scott
Learn to follow your instincts with Chris Batha, Chief Instructor and Gunfitter for Churchill Gunmakers and Bruce Scott of the Shotgun Journal. Their combination of classic wingshooting techniques and proven clay - busting tips is packed with technical and practical information.

Churchill and Stansbury styles plus the three major techniques are demonstrated with the "EYE CAM" on the layouts, high towers and grouse butts of the Churchill Shooting Grounds, London, England.
For the Wing Shooter who shoots clays, for the Clay Shooter who hunts.

• The Instinctive Shot
• Technique Analysis
• Target Tactics for Wing and Clay
• Classic Styles
• The New Eye Cam Technology
• The Fundamentals
• Gun Fit
• Choosing Your Double Gun
• Buying a Pre-owned Gun
• Correct Gun Handling
• The Side by Side
• Loading


To order your copy please send a check for $64.95 (specifying VHS or DVD) to Chris Batha Shooting Schools, 43 Pinckney Colony Road, Okatie SC 29909-4100. Shipping is included.

Page 7