The first Argentina Wingshooting School, has flown. In the early afternoon of December 5, 2003, seven of us met at Miami Airport for the flight to Santiago and transfer to Cordoba, Argentina. The eighth member of the team of guns was flying from California and was to join us in Cordoba.
On arrival, our passage through immigration was swift and we were met in the baggage hall by two porters who had already collected our bags and guns. They shepherded us through to customs where Tomas Fontera was waiting with bouquets of roses for the ladies in our team and all the necessary licenses and paper work. This certainly made bringing the guns into Argentina a breeze!
Loaded into the company's assortment of Jeeps and trucks, we made the final leg of the trip to our accommodations, South of Cordoba and conveniently just 15 minutes from the dove roost. (I have been with other outfitters where the journey to the shooting can take forty minutes to one hour.) Being based so close is really a bonus.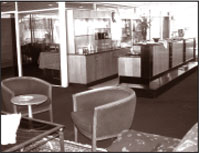 Rather than the typical Estancia, our accommodations at these dove fields is a very pleasant small hotel, with en-suite rooms, swimming pool and a private dinning room for our party. The accommodations, food and service are First Class, including the extremely well-stocked bar. (An exploration of the Fine Wines of Argentina as well as the other array of excellent "Swing Lubricators", encouraged the telling of great examples of Shooting Prowess in the evenings!)
Allocated our rooms, we showered, unpacked clothes and guns before changing into our shooting clothes and the short trip to the dove fields. On arrival, we found Juan, our guide, and the bird boys waiting.
After introductions, we sat down to an alfresco lunch of barbecued beef. Yes,Argentinian steak is pretty hard to beat, especially when cooked over an open fire.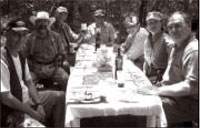 After lunch, we took up our allocated pegs. The bird boys had built "hides" and had our guns, cartridges and refreshments to-hand; we were ready to "let the battle commence"!
Those of you who have sampled the delights of dove shooting in Argentina will never forget that initial surge of adrenalin when you first see the size, number and constant flight of dove! It has never failed to induce a frenzy of loading and shooting until, gradually, the realization sets in that it is not going to suddenly end. At that point, you can begin to take your time and pick your shots.
When our group had reached this stage, I began to visit with each one, video taping them in action for analysis before dinner that evening in the first of the classroom sessions.
The camera does not lie, and that evening we all witnessed the familiar mistakes in the fundamentals that cause us to miss. After watching and discussing the video, I gave a class on the whys and howto's of straight shooting. This included footwork, gunmount and technique. In the field the next day, I spent sessions with each gun, giving constructive critiques based on my observation from the previous day's taping, comparing that with how the individual was shooting that day.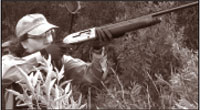 This coaching format was repeated throughout the four days and as individual improvement was made, the emphasis moved from the fundamentals to the best technique for shots encountered while hunting.
To a man (and woman) , we pronounced this a memorable adventure! And all of us proclaimed "We shall return!" as soon as schedules and seasons permit.

DOVE CARPACCIO
SARA DI CORDOBA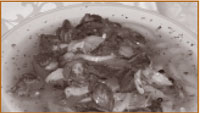 Remove dove breast from the bone, remove skin and clean. Sautee over very high heat in a lightly oiled cast iron skillet for about 2 minutes. The outside must be seared and the inside pink. Put over paper towels to cool. When cool, slice thinly, arrange in a flat plate and lightly brush with chimichurri sauce. Serve with cucumber slices and more chimichurri sauce.
The sauce:
1/2 cup of Extra Virgin Olive Oil 3 tablespoons of freshly squeezed lemon juice
1/3 cup of minced parsley
1/2 to 1 clove of garlic
1 large shallot
1 teaspoon of basil minced
1 teaspoon of thyme minced
salt and pepper to taste

Blend all these ingredients in a food processer and let rest for at least 3 hours. Adjust oil, lemon juice and salt and pepper to taste and serve apart. The sauce can be made a day in advance.

From that Culinary Genius,
Marco Brambilla
Page 3