THE GUEST COLUMNS:
A NEW ADDITION
The Gazette has been an amazing success, with the requests to be included on the mailing lists grow daily, the publication itself is matching the growth. In an attempt to keep the content fresh, informative and interesting, I have asked friends in the industry, both professional and just keen sportsmen and women, to submit contributions.
In this edition you will find the first sprinkling of these; I hope you enjoy them and please feel free to let me know your thoughts on the content and on any subject you would like to see covered. (How To Sell Your Gun came from a reader's suggestion.)
This Quarter, among our guests, The Double Gun Journal's Michael Sabbeth covers the introduction of the new Berretta SO10, a true Italian jewel and Sports-A-Field's John Taylor dispenses some sage advice on cartridges, Damascus barrels and gunfitting.
---
MY OLD SHOTGUN!
I answer many letters for the National Rifle Association that inquire if a particular Damascus-barrel double can be fired with "low-brass" loads? There seems to be some persistent idea that the height of the metal head on a shotshell determines pressure. Nothing could be farther from the truth! Both low-brass and high-brass shotshells can generate pressures well above the safe limits of even the best, nitro-proofed Damascus/twist barrels.
I own several Damascus-barreled shotguns that could not be safely fired with any ammunition. However, following a trip to Briley Manufacturing Co., (1230 Lumpkin, Houston, TX 77043; phone: 800-331-5718), I can enjoy them, albeit in a smaller gauge.
Briley, following a careful inspection, will hone out the original barrels to lighten them, then make a custom set of fulllength tubes, 20- or 28-gauge in an original 12-bore are recommended, these are complete with screw-in chokes. Thus equipped, we can shoot our heirloom shotguns with safety and enjoyment.
John M. Taylor
THE IMPORTANCE OF GUN FIT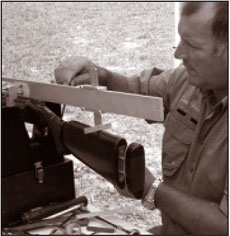 Combined with a solid gun mount, a properly-fitted stock that delivers the shotgun's patterns to a precise and predictable point of impact is the key to good shotgun marksmanship.
There is often a reluctance on the part of shooters to be fitted. Many shotgunners seem to believe that a fitting leads exclusively to an expensive new stock. That's not true. Stock bending, pads, add-on combs, etc. can inexpensively adjust an existing stock.
Recently, Chris Batha fitted me prior to having my Henry Atkin restocked (the original stock was oil-soaked and unsalvageable) and ordering a Perazzi sporter, and before the completion of my Ithaca just prior to Ithaca Classic Doubles declaring bankruptcy. In each case, the point of impact of each gun was precisely where I wanted it and the fitting dictated.
Many shooters restock their shotguns for looks, without regard to fitting. Others are content with a five-minute "fitting" using a flashlight in the bore from a dealer who hasn't the slightest idea of how a shotgun is fitted. Only by shooting at a plate can a fitting be accomplished, and it often takes hours, not minutes. However, once the proper dimensions are derived, they become an integral part of excellent shotgun marksmanship.
John M. Taylor
7819 Stovall Court
Lorton, VA 22079-4330
703-339-6415
The Art of Shooting
An Expert's Point of View
A natural extension of shooting is the collecting of sporting paintings. Of interest to shooting enthusiasts may be scenes of hunting or paintings of gun dogs— either antique or contemporary. Some collectors might limit their interest to American or English paintings, others to the breed of dog they own.
Learning about paintings can be an interesting and exciting venture. Sporting auctions can be a great place to see a variety of painting styles and quality. Buying at auction, however, is not always for the neophyte, and a good art adviser can help make your foray into the art world more enjoyable and successful.
The December 27, 2003 issue of The Financial Times devoted an article entitled Some Help With The Old Masters to the growing popularity of art advisers, who at one time served only the highest level of collector. The article states that art advisers may be in demand for the knowledge and networking they can provide, or the anonymity they can offer buyers and sellers. Some potential collectors may have the means but not the expertise, and may use advisers to negotiate the minefield of the art market. The most important qualities of an art adviser are integrity and expertise.
To learn more about the art market, ask a reputable gallery, museum or auction house to recommend an adviser in your area of interest.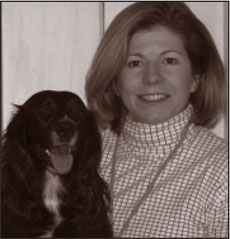 Susan Quigley is an art dealer specializing in sporting art and enjoys shooting over her English Cocker Spaniel, Chough.
She can be contacted at derrymeeting@earthlink.net.
Page 6