We met the nice folks from Sporting Wood Creations at The Vintage Cup in Millbrook, New York last Fall. If you were at that event you may have left with a set of their Kudu Horn and Ostrich Egg Wall Lamps, a Trophy Sized Ivory Warthog Tusk Gun Rack or one of their Fallow Deer Walking Staffs.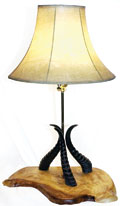 The owners started out making a few custom items for themselves but their sporting friends kept asking them to make items for sale. Their friends showed their purchases to their friends and word of mouth took care of the rest.
Sporting Wood Creations offers custom-built products created from

exotic woods, horn, antler, hide, ivory tusk, sterling silver and Damascus steel. Each original creation is custom-built by their dedicated craftsman. Nothing leaves the shop floor until it meets their demanding standards.
The Springbok Antelope is to South Africa what the Whitetail Deer is to our country. Give your favorite room in the house a special effect with our custom-made Springbok Horn lamp. We combine three full sized Springbok horns on a base of rare African Yellow Wood for a stunning visual. The horns are hand selected for their uniform size and shape and are then hand polished to a beautiful low luster. All our Springbok horns are legally imported and are secured during Government authorized cull hunts in South Africa.
When you combine this commitment to quality with exciting raw materials the results are nothing short of spectacular!

Most of their creations reflect the owners' passion for Africa, but the appeal of their products is universal. They offer hundreds of unique products for your home, lodge, camp, bar or office.
If you are shopping for the Sportsman or Sportswoman who has everything, give Sporting Wood Creations a call and let them recommend something from their website or from their special reserve inventory. Everything comes with a "We will make it Right" guarantee, but they are particularly proud that they have not had a single return since they started the company.
Please visit their website at sportwc.com or call (423) 975-7626.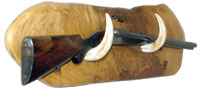 Trophy Sized Ivory Warthog Tusk Gun Rack
Shotguns are my living; they are the essential tools of my trade. I make them, fit them, bend them, mend them and sell them. Every year I drive over 40,000 miles attending shooting clinics, hunts and shows and every one of those miles on the road I will be hauling an average of 15 or more guns. Security and hence, peace of mind, are essential requirements, both on the road and stopping overnight. My "Truck Vault" gives me exactly that!
Custom-built to my vehicles specifications, it maximizes secure storage in a minimum space.I have one of the two locking drawers partitioned with dividers that keep all of my bits and bobs separated and neatly organized, and the standard drawer is long enough to store the assembled shotguns and rifles.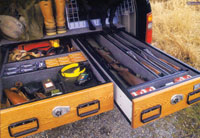 The top deck is covered in a vehicle- matching, durable, all-weather carpet that handles all of the abuse that my outdoor lifestyle can throw at it. This is a real plus, along with the essential security element that when the car is locked, it appears empty to any potential thief looking into the interior.
The Unican push-button locks deliver maximum security. They cannot be forced or picked, codes are easily changed and ( real bonus for me), there are no keys to lose!
The "Truck Vault" offers safety as well as security. If it is properly fitted and secured in the vehicle, if you are involved in a collision or accident, there are no potentially lethal objects flying around the interior to damage or injure you or your passengers.
" Truck Vault" is as essential to my business as the "Try Gun and Pattern Plate" and I could not more highly recommend this product to you.
For detailed product information, go to www.truckvault.com or contact David Pasqualone at 800-967-8107 or
davidp@truckvault.com
.