After months of writing and re-writing, this long-awaited ( by us as well) book on Clay Shooting is at the Printers!
The book is being printed in four color, liberally illustrated with drawings, photo illustrations, photographs, graphs and charts, "Breaking Clays" is sure to be a valuable addition to the serious shooter's reference library
Originally it was to be a compilation of all the articles that Chris Batha has written over the last 15 years, but it quickly became evident that that was an overly-optimistic theory!
While the literally hundreds of columns were used as reference, what has emerged is a compact yet comprehensive "workbook" for the Clay Shooter intent on getting those few more elusive targets.
To place a pre-publication order for an Autographed First Edition at $35.00, shipping included, please call 866-254-2406 or e-mail
chrisbatha@aol.com
or send a check to Chris Batha Shooting School, 43 Pinckney Colony Road, Okatie, SC 29909.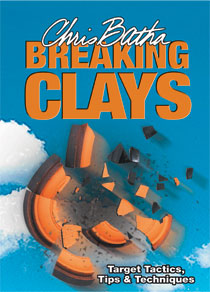 The new cover art by Graphic Designer Jeff Love has added some real excitement!