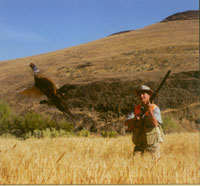 When we started to consider locations for the HD TV Show, we looked for places where we could get that rare combination of outstanding wing shooting, beautiful scenery, superb accommodations and terrific hosts. (We don't want much… just the best!)
We asked our expert resources and the vote was pretty much unanimous. For the finest Pheasant, Chukar, Valley Quail and Hungarian Partridge, all available in one outstanding location, it had to be Highland Hills Ranch in Condon, Oregon…The 2004 Orvis Wing Shooting Lodge of the Year!
We met with the congenial owners, Dennis and Sandy Macnab, at the SCI Show in Reno and they were very enthusiastic about being the Western USA Location of Choice for our Show.
The 3,000 acre ranch has truly exceptional habitat, expertly managed by the Macnabs, both avid wing shooters. Bottom fields and hills combine natural cover with the milo, sunflowers and millet planted each year to create the cover favored by the five species hunted here.
To quote Dennis Macnab directly, "Hunters who visit the ranch tell us that the bird hunting exceeded their expectations. The Valley Quail and Bob White population has exploded, and we've seen more Huns over the past five months than we've seen in 15 years. Our Pheasant and Chukar population is way up from last year, so be prepared for some great hunting!"
The guides at Highland Hills are highly skilled and helpful - your enjoyable hunting experience is their goal. The dogs are seasoned and well-schooled in the often-tricky business of finding the various species hunted here.
After the hunt, guests retire to the 10,000 square-foot hand-crafted Log Lodge, the "hearth and home' of the whole experience. The magnificent stone fireplace, surrounded by comfortable leather chairs, beckons hunters to
put up their feet and exchange tales of the day's shooting. Both private rooms and individual cabins are comfortable and handsomely appointed. Superb wines, intriguing appetizers and seasonal entrees, prepared nightly by their Gourmet chef, complete each day in splendid fashion.
We will be doing shooting HD TV Shows at Highland Hills Ranch from October 6th to October 13th, 2005.
Two groups will enjoy Unlimited Wing Shooting of Five Species on two hunt dates.

Three Day Hunt
This first group will arrive October 6th, hunt all day October 7th, 8th and 9th, and depart October10th.
The cost, per person, is $3,750.00

Two Day Hunt
This second group will arrive October 10th, hunt all day October 11th and 12th and depart October 13th.

The cost, per person, is $2,500.00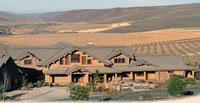 All programs include lodging (double occupancy, private baths), unlimited wing shooting, guide services, hunting dogs, all meals, all beverages (including beer, wine and liquor), on-site transportation, 12 and 20 gauge cartridges, sporting clays, licenses, permits and packaging of harvest.
• Not included: travel to or from Highland Hills Ranch, shipping of game meat, cooler, guide and staff gratuities.
• Single occupancy guests add $350.00 per person, per day. Non-hunting guest's cost is 50% of the Hunt package.
• A deposit of 50% is required at the time of booking, with the balance due by August 6th, 2005.

To make your reservations, call
1-866-478-4868 or
e-mail info@highlandhillsranch.com.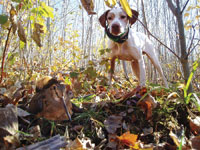 One of our most exciting and challenging HD TV shoots will be shot at Leen's Lodge in Grand Lake Stream, Maine, well-known for their outstanding upland bird shooting.
The very large population of Ruffed Grouse and Woodcock is sustained by the abundant second-growth habitat of overgrown fields and woods while the flat terrain almost evens the odds for dogs and hunters.
Leen's Lodge owner and operator, Charles Driza, is no stranger to the "Shooter's Spotlight". He has hosted Bruce Scott of The Shotgun Journal as well as David Trevallian and Richard Raymond of The Shooting Sportsman, all experienced upland hunters who also know where the good birds are!
For those rabid Grouse and Woodcock hunters who wish to join us on our HD TV Shoot, we will be there from October 23rd to October 29th, 2005.
For those of you who cannot make those dates, the Season opens October 1st and closes October 31st, and the birds are there!
Hunters' Packages include: Lodging in a Private Cabin, all meals, and Full Guide Service with dogs…theirs or yours.

$ 325.00 per person,
per day, double occupancy
$ 430.00 per person,
per day, single occupancy
Non-shooter (with shooter),
$125.00 per day

Spaces are limited and fill up fast, so we suggest you call early!

To make your reservation, call Charles Driza at 1-800-99-LEENS (1-800-995-3367), or e-mail him at cdriza@leenslodge.com. For more information, visit their website, www.leenslodge.com.
Page 5