As the saying goes… "A little knowledge is a dangerous thing".
That said, I, perhaps foolishly, consider that I have a reasonable understanding of the elements that make a competition shotgun tick. So, here I boldly go, where I never before would dare to go…my criteria for The Perfect Sporting Shotgun:
1. It should have intrinsic handling and balance, low recoil and deliver superb patterns at all distances and disciplines.
2. It should be custom-built to fit the discipline being shot and be able to achieve the performance required to shoot that discipline.
3. It should look great, conveying pride of ownership and self-confidence. After all, you are what you shoot, aren't you?

In association with the Internationally-known Custom Gunmakers, Famars di Abbiatico & Salvinelli, I can now offer "The Ultimate" in competition shotguns! No other gunmaker can come close to producing a Sporting Shotgun of this quality, at this affordable price, custom-built to match your build, style and discipline.
You may choose your barrel length and Rib Style. You also have your choice of Custom choke borings (Briley Custom Choking is an available option) and barrel weight.
Stocks and forends are custom-made to your dimensions, specifications and requirements. There is a Lifetime Warranty on the trigger group.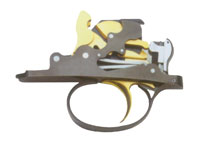 The Chris Batha Signature Sporting Gun has the sleekest lines and the finest handling of any competition shotgun on the market today.
Your custom-fitting and all of the above options are included in the price of the gun, which can be delivered within 7 months of placing the order.

Prices start from $13,500.00
"No competition, No Progress!"
A Russian sports coach wrote this, and now that the season's close is fast approaching, we should heed these words.
All too often we simply wipe our guns off and put them away until the Opening Day of Dove Season. We then, amazingly, expect to stride into the field and pick up where we finished six months before. In fact, your first half-dozen forays can be nothing but frustration, until the summer rust is shed and your mount and swing is back in the grove.
Whenever I mention some summer practice at clay targets, the answer is often, "They are not like the real thing". "They don't jink and twist like a dove and, more important, there's no excitement! If I miss, I can always call for another."
All this is true, but the "move and mount" to the target is the same be it shooting live birds or their inanimate clay cousins.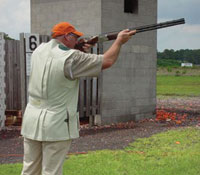 Time spent in practice is seldom wasted and a few visits to the Clays Course throughout the Summer will maintain your End-of-the- Season skills and avoid the all-too-frequent Fall Frustration.
Now, if you would like to add a little spice to your practice, then you could enter one or more of the Spring and Summer Competitions.
Beginning in April with the Southern Side by Side Championships, at Deep River Sporting Clays in Sanford, North Carolina followed by The National Side by Side Festival, held this year in May at The Northbrook Club in Hainesville, Illinois.
In June there's The Upper Peninsula Side by Side Championships at The Sagola Sportsman's Club in Channing. Michigan and, of course, The World Side by Side Championships, The Vintage Cup at Orvis Sandonona, Millbrook, New York in September.
At these competitions you cannot simply call for another bird if you miss, and every target counts! If you have never experienced the buzz of shooting in a competition, you should!
These are essentially fun events but the competition aspect will put a little edge on your off-season practice. Of course, there is always the option of some instruction or a Shooting School, but some would say that I am biased in that direction.
Page 8