A Collector's Haven Established by Thelma and Jeff Zwirn, this distinctive Hudson Valley landmark brings artists and collectors together in an atmosphere of friendliness and mutual appreciation. A favorite destination for area weekenders, the Gallery features original paintings, prints, rare first-edtion books and collectibles, on the subject of hunting and country pursuits.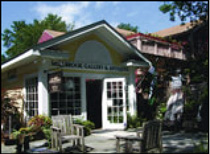 Visit: www.millbrookgalleryandantiques.com
Millbrook Gallery & Antiques
3297 Franklin Ave.,
Millbrook, NY 12545
Telephone: 845-677-6699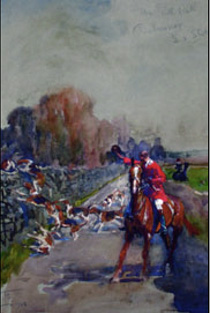 Park Wall by Lionel Edwards

LIONEL EDWARDS
1878 - 1966
Lionel Edwards was born in Clifton, the son of a doctor from Chester. A keen hunting man, Lionel Edwards spent his life combining hunting and painting, and most of his pictures were worked from many sketches made on the spot. For six years he illustrated for The Graphic in London.
He then moved to the country and was able to make a living painting sporting pictures, and at the same time enjoy plenty of hunting.
Edwards was a great raconteur and wit, and a tremendous horseman, who hunted with almost every pack in England.

From The Dictionary of British Equestrian Artists, by Sally Mitchell.
Recently, we attended a shoot in South Carolina where the gorgeous shotguns were almost out-shown by the parade of exquisite automobiles.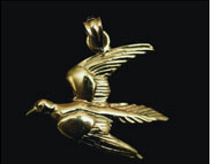 Then as we stepped into the Main Lodge, we noticed a simple, but elegant display by Mr. Allen Mozingo, a Jeweler from Mt. Pleasant, ... near Charleston, if you happen to be
passing by.
Arrayed on his table was a wonderful assortment of pins, necklaces, bracelets and even some very handsome Rolex watches (he is an authorized Rolex dealer).
But what immediately caught our eye were the original designs of the pins depicting Pigeons in Flight. A perfect ÒGuilt GiftÓ for the understanding Significant Other who patiently indulges the Passionate Shooter!
As Mr. Mozingo explained to us, he specializes in creating original jewelry designs, and also handles Estate jewelry, as well as a full line of Platinum, 14K and 18K gold jewelry. Any of the handsome Pigeon pins and pendants I saw would make a beautiful "memento" of an excellent shoot!

For information: Allen Mozingo
zinogoenterprise@aol.com
1121 B Parkwest Blvd., #230,
Mt. Pleasant, SC 29466
Telephone: 910-617-7710