Heritage Guns first exhibited in the United States in 2004 at the Southern Side By Side Championship in North Carolina, sharing a large booth with another English gun trader.
Since then they have become regulars at the Vintage Cup event in Millbrook NY and now plan an increased presence at US shows including the January 2007 Antique Sporting Arms Show in Las Vegas and a return to North Carolina in April.
I first met Toby Barclay, who heads up Heritage Guns, at an early '90's coaching course run by the British Association of Shooting and Conservation and later at the 2002 Las Vegas Antique Sporting Arms show where he described to me his restoration company specialising in guns by lesser know English 'makers.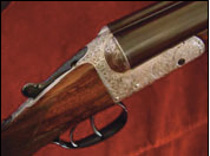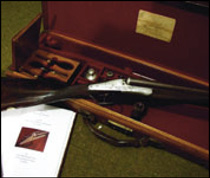 Little did I expect to see the lengths to which Toby would go to restore, research and case these fascinating pieces of sporting heritage.
To take one example of their work: a John Blanch & Son back action ejector which has been lovingly restored as a seriously useable sporting tool, cased in relined Oak & Leather, equipped with Ebony & Brass tools, spare strikers, Damascus bodied snap caps and, uniquely, a 'Heritage Guns Companion'.
The 'Companion' is a historical & technical treatise on an individual gun covering the makerÕs history, dating, technical specification, patent history and patents exhibited in the gun. It even includes scans of the original patent drawings dating back to the mid 19th century allied with photos of the actual mechanisms.
Of course not all of Heritage Guns' projects get the full historical treatment, they list many less exotic pieces, but all their guns have received a major refurbishment and one can truly say that their products are 'Historic Guns for the Modern Sportsman'.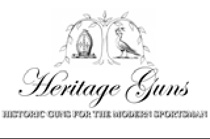 Visit: www.heritageguns.co.uk
Heritage Guns,
The White House, Silver St.,
Kedington, Suffolk CB9 7QG
Telephone: 011-440144-070-7731


The Royal Over and Under is available in 12, 20, 28 Bore and .410, with fixed or interchangeable chokes. The choice of single or double triggers, and a range of barrel lengths and rib styles are determined by each customer's requirements.

Visit: www.hollandandholland.com

Holland & Holland,
10 East 40th Street,
Suite 1910, New York,
New York 10016

Telephone: 212-752-7755

31 & 33 Bruton St.,
London WIJ 6HH
Telephone: 011-44-207-499-4411.
Page 8
Today's finest shots increasingly appreciate the balance, handling characteristics and single sighting plane of the Over and Under.
Holland and Holland has married these qualities with the classic styling of their sidelock to create the perfect synthesis of function and elegance.
Devotees of the earlier Royal guns would certainly recognize the merits of the Royal Over and Under Game Gun which features the Holland and Holland patented angle bolting system to give positive locking and reduced wear. Evolutionary improvements to cocking, striking and ejection combine to produce a gun of impeachable quality.