We had such a fabulous shoot at Ballywalter Park last Fall, that we have secured two shoot dates for this year. Each Shoot will accommodate a Team of 8 Guns and up to 8 Non-Shooting Partners. The Shooting Party will stay with Lord and Lady Dunleath at their Stately Home on the County Down coast, about 20 miles from the City of Belfast.
You will all enjoy the wonderful shooting, the excellent cuisine, and the warm hospitality of Brian and Vibse, The Lord and Lady of Ballywalter Park.
www.ballywalterpark.com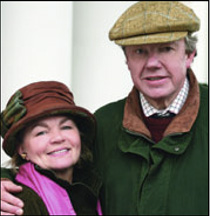 Itinerary


Trips one and Two
DAY ONE•
NOVEMBER 26, DECEMBER 3
We meet at Belfast International Airport, take care of the guns, licenses and baggage, then drive to Ballywalter Park. On arrival, guests will be shown to their rooms and after a light lunch, are free to tour the house, stroll in the gardens or walk on the beach.
Pre-dinner drinks will be available from 7:00 pm with dinner at 8:00 pm.
DAY TWO •
NOVEMBER 27, DECEMBER 4
Breakfast will be at 8.00 am with departure at 8.45 am for the 9.15 am Strangford Lough Ferry.We will shoot Driven Snipe at Downpatrick Marshes, some 400 beautiful acres adjacent to the Ballydugan Estate. The usual cartridge-to-kill ratio is around 10:1, but the bag is dependent on the conditions being "snipe friendly" and the prowess of the guns! Soup and rolls are served in the field at midday, with a late lunch in Ballydugan House at the end of the shoot.
If the Downpatrick Marshes are flooded, the snipe will not appear, so this option is not always available. In that case, we would have a morning of Walked-up Pheasant shooting, with some Duck Flighting in the evening.

ITINERARY FOR NON-SHOOTERS

Non-Shooters can breakfast at a more leisurely hour, departing at 9:45am for a private tour of The Northern Ireland Parliament Buildings at Stormont, on the outskirts of Belfast. www.harrisonphotography.co.uk, then on into Lisburn, where lunch will be at Bar Burgundy www.jollygoodwine.ie, followed by a private tour of the fascinating Lisburn Linen Museum. www.lisburncity.gov.uk
Guests will reconvene at Ballywalter Park for drinks will at 7:30 pm with dinner at 8:15 pm.

DAY THREE •
NOVEMBER 28, DECEMBER 5
Breakfast for everyone (Non-shooters may wish to accompany the guns today.) at 8:30 am, then off to The Albany at 9:15am.
We will shoot a mix of Driven Duck and Driven Pheasant on the farm and parklands at The Estate, with four drives in the morning and two after lunch. Distances within the Estate are relatively small, with easy walking between the drives. A vehicle will accompany the guns throughout the day carrying guns, cartridges, and other bits and pieces.
Lunch is a hot main course served with wines, followed by Stilton and Port, served in the Albany Shoot Rooms. Soup will be served after the second farm drive at the front of the house. The anticipated bag for the day is 350 Pheasant and Duck.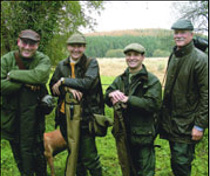 ITINERARY FOR NON-SHOOTERS

After breakfast there will be an opportunity for some "retail therapy" in the Lisburn Road in Belfast, an eclectic mix of internationally renowned designer boutiques, antiques shops, etc. followed by a tour of The Belfast City Hall.
Lunch will be at Dean's Deli. Guests will return in time for pre-dinner drinks at 7:00 pm, then dinner at 8:00 pm.
Page 4