The Robert Louis Company, first known for their popular Shotgun Combo Gauge, has done it again! After over a year of testing and experimentation, they have introduced a very handy new measuring device, appropriately named The Boremaster Multi-Bore Gauge.
As the name implies, this compact tool measures the inside dimensions of any shotgun barrel, from .410 to 4 gauge, to a depth of six inches. The 6 inch probes are spring-loaded to produce the same pressure along the walls of the barrels as the measurements are taken.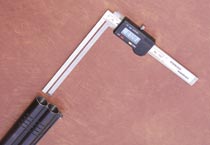 This is a very helpful and handy gauge to have in your workshop, at a gun show or even when out shooting. You can check (or double-check) the chokes in either specific bore diameter or actual constriction, simply by touching the "0" button.
You can even measure your screw-in chokes in or out of your shotgun as the actual constriction relative to the barrel bore diameter.
Chamber length is measured by inserting the probe into the chamber and when the forcing cone is met, that is the chamber length – read in both inches and metric as inscribed on The Boremaster.
These measurements up to the 6 inch depth convey a lot of information to the shooter or potential purchaser, even though the entire length of the barrel is not measured. And the compact size of The Boremaster makes it easy to keep close at hand.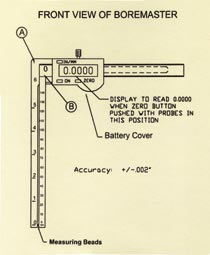 For more information on The Boremaster and other Robert Louis Company Products, call 800-979-9156 or visit www.shotguncombogauge.com.
Page 11