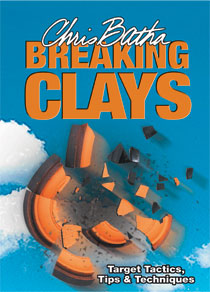 To order an Autographed First Edition for $35.00, shipping included, send a check to Chris Batha Shooting School, 43 Pinckney Colony Road, Okatie, SC 29909.
The Second Edition is now available through the usual commercial resources. However, we still have some copies of the Autographed First Edition left in our "Private Stock" saved for readers of The Gazette.
Here are some excerpts from the notes and e-mails we've received:
"Excellent book! Easy to comprehend reference drawings/photos. Enough copy to explain, yet not so much that points are dulled through repetition. Well done!!! Best applause is to order another copy." W.M.III
"I just wanted to let you know the value of…"Breaking Clays". I've gone from a poor shot … to a fair shot in the 70s … to a damn good shot…to reiterate, your knowledge is invaluable, therefore your book is invaluable." E. McN.
"I LOVE your book! It is great fun to read in addition to being very, very instructive. I've now read it over several times and glean something more each time through. You've written a real masterpiece." W.D.
Our grateful thanks to all of you who have taken the time to write us!