If things get any better, I may have to hire someone to help me enjoy it, that's how good I was feeling around mid-March. I had just finished the last of the High Definition Television shoots for the 2006 series 'Wingshooting the World' with yours truly - three sensational back-to-back quail shoots with the Grand Finale at South Carolina's spectacular Brays Island.
I have to say a big "Thank you!" to everyone that made these shows possible. All three Quail Shows take place in private locations, each place special in its own way, and yet all offer some of the finest Quail shooting to be had anywhere.
Like all good adventures, we should start at the beginning, in Big Spring, Texas, on the trail of...

Texas Blues
When I called Bradley Bates to ask if there was an opportunity to do an HD TV Show in Big Springs this past January, I received an education in Texas Blue Quail from the top. Brad is an avid Quail hunter, a master dog handler and an expert on Texas Blues.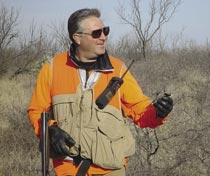 He started right in... "Last year, the number of Blues was good because it was the end of a thirteen-year drought and we got plenty of well-timed rain during the birds' breeding period, just at the right time for the hatch and to produce plentiful cover. Quail numbers are very dependent upon this moisture at the right time of the year and that's the reason for these Boom-or-Bust years in Texas Quail."
"My friend Carles Gibson and I have endured the Boom and Bust for many, many years.
We have held onto these leases through the Bust years and are now reaping the rewards! This should be the best year for Quail in several decades."
"The Quail breeding season can last from April until early October, and the hens will often attempt to raise several clutches of chicks. However, there is not a predator in Texas that does not love Quail eggs and the chicks are equally at risk."
Bradley is very fortunate that on one of his best leases, Tom Holt, the owner, manages the ranch specifically for Quail. When he removed the mesquite to create grazing pastures, he left wide strips between the fields. Then he rotates his livestock to maintain the grass height above 7 inches. As the quail are about 6 inches tall, this standing grass cover makes all the difference to their survival.
Well, bountiful Blue Quail does not mean they are easy to hunt or shoot. First you need a specialized Bird Bus, something akin to a dune buggy. Then you need access to the hardest hunting pointers in Texas. Luckily, Bradley Bates has both of these!
The tactic is, you put a pair of dogs down, jump into the Bird Bus and follow these "horizon dogs" until they point. Then you drive straight past the dogs and bust the covey! You repeat this several times until you have slowed the covey down enough to keep up with them on foot.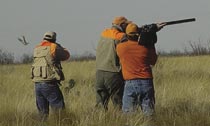 Now it's a real chase - the dogs point, you get to them as quickly as possible, but the covey has run on. You repeat this exercise several times, until the covey breaks into singles.
Now the fun begins! The singles will hold better than the covey but will still get up and fly at distances that would put an ATA competitor on his toes. This is no place for a .410!
I used a 16 gauge and an ounce load and was pleased to have every bit of it! We finally shot our limit as the sun was going down.
What a fabulous experience - great dogs, great company and unbelievable Blues! I hope I don't have to wait through another thirteen-year drought to sample it again. Many thanks to you both, Brad and Carles and to you too, Tom!
Our next stop was the piney woods of the Georgia Low Country, at Dorchester Shooting Preserve, after Bob White and the mythical...

Tennessee Reds
Dorchester Shooting Preserve in Midway, Georgia is one of the best kept Quail secrets in the South. Here the Father and Son team of Charlie and Chuck Gaskin have created one of the most exciting and testing commercial bird hunting operations around. At the mention of the word "commercial", most hunters roll their eyes and imagine kicking up thinly-feathered, poorly-conditioned pen-raised birds in an effort to make them fly! Not at Dorchester! You never, ever have to encourage their quail to fly! In fact, you may wish they were not quite so wild!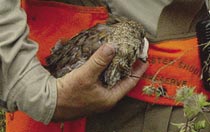 Here the Gaskins have developed a completely new approach to "put and release" Quail.
Ask Chuck his secret and he is frank enough to tell you that the majority of "put and release" Quail, are just that - "put and released" on the morning or afternoon of the hunt. If those birds are not shot, no effort is made to create any habitat, to develop cover or to cultivate feed crops - those birds are not supposed to survive for more than a few days.
Page 6