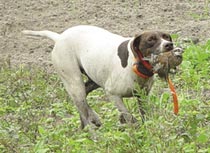 Now as any owner or manager of a truly Wild Quail Plantation will tell you, you do not want to even consider what a Wild Quail shot actually costs! The only way to run a commercial preserve is by "put and release". The difference is in how you do it.
The Gaskins started with some prime Quail habitat. Then they spent two years shaping, managing and manicuring the land for any Wild Quail, but they prefer that bigger "cousin" from the North, a very hardy sub-species called the Tennessee Red. Five hundred were introduced in October of last year, though I had never heard of or seen one before, it is definitely a distinct sub-species of Quail. Very red in color, with a small top knot and a white mark at the cock's throat, it is smaller than a Bob White. It is also a faster, harder flier. To prove this last point, there are still two or three hundred of them left five months into the season!
The Gaskins only select prime, healthy Quail, flight-conditioned, bred and raised as far from the sight and smell of man as possible. When they are delivered, they keep them in the same isolated conditions in which they were raised to check for disease or defects. If all is well, they are released into the wild a month before Quail Season starts.
Chuck says they will lose a minimum of one third to predators, but what Quail are left are as close to Wild Quail as you are going to get. With ample food, water and cover, and after five or six years of trial, error and tribulation the Gaskins have created some of the hardest-flying, most testing Quail anywhere!
Now, if you really want to see them take off, do it like they do at Dorchester...bring in the flushing dogs! When the pointers locate a covey, instead of the usual practice of the guide walking or whipping in to burst the covey, Dee, our guide, has a Labrador retriever at heel.
Dee asks if you are ready, then he commands "Flush Em Out". Well, I can assure you, this brings a whole new dimension to Quail shooting.
Spend a day at Dorchester pursuing pointers after Tennessee Reds and you'll come as close to shooting Wild Quail as you can get without having your own Plantation...it's a lot of fun and a lot less money! Thanks, Chuck and Charlie...see you in High Definition this Fall!
Our last stop on our Quest for Quail took us to Brays Island, a private paradise of...
Southern Bob Whites
At Brays Island, I found myself riding on a picturesque, mule-drawn wagon, creaking along through some of the prettiest Southern Bob White Quail habitat I have ever seen. We were accompanied by a brace of outriders - English pointers, quartering through the manicured pine forest cover ahead like WWII fighter planes guiding a bomber back from a mission.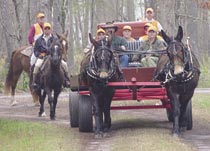 This is old-fashioned, traditional Southern Plantation Quail shooting at its best. This is the sport as it has always been - the preserve of the wealthy - as formal and elegant as a Driven Grouse or Pheasant Shoot back in England.
I was fortunate enough to be the guest of Perry Harvey, and by extension, the other owners of Brays Island, a 5,000-acre Sportsman's Paradise, where over 3,750 acres are in conservation easements, and the residents are entirely devoted to outdoor pursuits.
There were many such Plantations at the turn of the Century, but the financial pressures of operating a Plantation for the sole purpose of offering Quail hunting for the family or guests at weekends and holidays for a few months of the year were substantial!
This meant that many Plantation owners had to diversify their investments into more profitable areas like cash crops, which required larger fields, fertilization, herbicides and pesticides or they got into commercial timber farming or property development.
Today, many of these fine old Plantations have been broken up and many of the hunting opportunities have simply disappeared. Brays Island is one of the unique exceptions and here everything is geared towards preserving that Turn of the Century experience.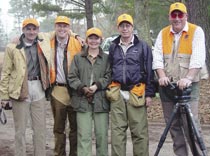 Full credit goes to the hard-working and knowledgeable team that cultivates this pristine habitat, manages the kennels, trains and runs the dogs and not to forget, keeps up the mules, wagons and horses, all of which goes to maintain this Southern Quail Plantation hunting heritage.
At a sudden movement, the mounted guide holds his hat aloft. There's that thrilling sight of pointers locked on scent. Then comes the swift descent from the wagon and horses, shotguns are deftly removed from scabbards and loaded, the hunters moving into the positions indicated by the guide.
"Are you ready, gentlemen?" On our nod of agreement - the flush! That buzz of wing beat and swirl of feather, that always makes your heart race and blood pound! You move, the mount and swing, choosing your bird from the flashing, bursting covey, you lock on and squeeze the trigger. A puff of feathers on the first barrel, but the bird's still flying strong! Keep the swing going and squeeze off the second trigger. Then that magic moment when the Quail seems to fly into a wall and drop! The retrieve, with a hen Bob White brought to hand! As they say in the South "That is gooder ' n grits!"
Page 7