One of the most commonly –heard complaints from Lady Shooters is "Why are there no shooting clothes designed just for us?" Well, those days are over!
Really Wild Clothing Company has arrived at British Sporting Arms! And you have never seen such a fabulous selection of really smart, stylish shooting outfits. (Gentleman, it's not too early to think "perfect gifts"!)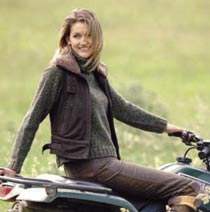 Dark brown nubuck fitted waistcoat, with sheepskin collar and tweed lining, over a lambswool polo neck sweater in various colors. Nubuck breeks in antique brown (shown), dark brown and green.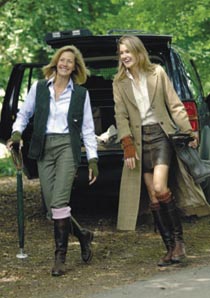 Nubuck waistcoast in dark green (shown), antique or dark brown, Green tweed breeks with raspberry and blue check, also in olive in moleskin or courduroy.

Classic long brown tweed check coat, also with coordinating short skirts Nubuck short skirt in antique brown (shown) dark brown and green.



To see the complete line, call 1-800-318-8693 for a catalog, or visit www.bsaltd.com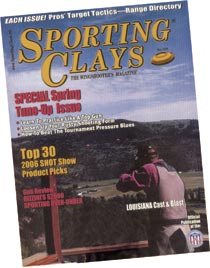 Established in 1989, Sporting Clays Magazine is the official publication of the NSCA, keeping shooters up to speed on all aspects of the world of Sporting Clays. With up-to-the-minute top tournament reports, and comprehensive coverage of the National Sporting Clays Association news, each edition is packed with articles touching on all aspects of shooting activities in the USA.


Regular and guest writers contribute monthly instructional columns, Star Shooter profiles, hunting and shooting reports, reviews and advice on equipment and guns.
Each edition carries special listings of where and when to shoot, reviews of ranges, insights on instructors as well as special sections on shooting gear, clothing, accessories, and sporting vehicles.
This valuable combination of resources makes Sporting Clays the must-have monthly magazine for the sporting clays and hunting enthusiast. The magazine is published monthly and free to NSCA members but available by subscription.




Sporting Clays Magazine
5211 S. Washington Ave.,
Titusville, FL 32780 Tel: 800-376-2237 Fax: 321-267-7216 www.sportingclays.net
In a world of "wear it once and replace it", it is really refreshing to discover the W. C. Russell Moccasin Company. Will Russell planted the seed of the Russell legend in 1898 when he hand-crafted boots for the demanding and testing Wisconsin logging workers.
Most loggers were also avid hunters and recognizing how Russell's traditionally-lasted and hand-sewn boots stood up to the harsh conditions of their work, as well as the boots' comfort and inherent strength, they started to use them while hunting. And so the legend was born.
To create a genuine custom moccasin boot is an intricate process. Every pair of Russell boots is hand-lasted, so it conforms to the shape of your foot. The boot is built around a "last", an actual wooden copy of your foot. A cradle is created around and under the foot, using up to three layers of the finest leather which molds itself to the exact shape of your foot and toes.
This means your toes can move independently and freely as they were intended to- your foot is not constricted, as in ordinary boots and shoes. The result is the most comfortable, most durable, pair of boots you have ever owned.
There is no "Breaking In" with Russell Boots.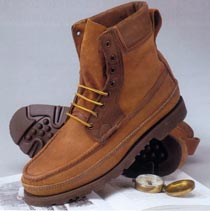 There are no pressure points applied to your foot as in conventional boots; the true made-to-measure moccasin construction results in boots that can literally be worn right out of the box.
Take a glance at my schedule - 50 Shooting Schools, 60 days of Gun Fittings, 13 television shows, one new DVD and guided hunts on four continents, in 10 different countries. I spend a lot of time on my feet! And I choose to do so in a pair of Russell Bird Shooter Boots! I've not found any better boot for what I do.



W.C. Russell Moccasin Company, P.O. Box 308, Berlin, WI 54923 Tel: 920-361-2252 www.russellmoccasin.com
Page 15