In the course of our travels, we have discovered many new and interesting artists.. but never one with that rare combination of classical training, wonderful skill and a wicked sense of humour!
Wayne McLoughlin was born in Wales in 1944. His interest in nature began as a young explorer of Hampstead Heath, London, then later, of the swamps of northern Florida where he often recorded his hunting and fishing experiences in sketches and paintings.
Wayne pursued a dual major in Fine Art and anthropology at San Diego State University. After working overseas in television and commercial design, Wayne embarked on a career creating illustrated humor parodies for national magazines, including Esquire, Omni, Next, Yankee, and National Lampoon. Major corporations like Citibank, Ford Motor Company, IBM, Motorola, Adidas, Texaco, and Mastercard also commissioned award-winning pieces for their special projects and campaigns.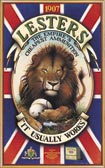 Wayne is an avid hunter and fly fisherman whose knowledgeable base of information and experience informs both his writing and painting. For twenty years he has served as a regular contributor to outdoor magazines like Sports Afield and, more recently, to Fly Rod & Reel. He was a Contributing Editor to Field & Stream for over a decade, where he explored the humorous side of the sportsman's life in prose and pictures.
He will be showing at The Adirondack Living Show, Lake George, New York - August 18, 19 & 20, 2006.
To read his full story and see more examples of his work, visit
www.blueloonfinearts.com
.