I have many friends and clients who travel annually to Scotland and England to experience the excitement and tradition of Driven Pheasant Shooting.
It has long been my desire to find a location in the United States that could replicate not only the majestic scenery of the Scottish Highlands, but also the warmth of hospitality and tradition that, combined with the shooting, make a trip to remember!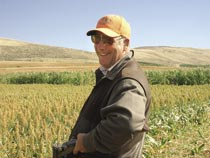 Highland Hills Ranch in Condon, Oregon, needs no introduction as a premiere wing shooting destination – after all, they won the coveted Orvis Wing Shooting Lodge of the Year in 2004!
The scenery is beautiful, even magnificent, but most important of all, it is the exact same terrain as the Scottish Homeland of Dennis and Sandy Macnab, the owners of Highland Hills Ranch.
After a visit to Highland Hills Ranch this past fall, I approached Dennis and Sandy Macnab and asked them to consider the idea of a European-style Driven Pheasant Shoot. They enthusiastically seized upon the idea and, beginning in January 2007, Highland Hills Ranch will host the "Best of The British" Driven Pheasant Shoot.
These high-flying birds demand a greater degree of wingshooting skills than the traditional upland bird. With this in mind, it was decided to include a Wing Shooting Clinic dedicated to British Driven Wing Shooting Techniques.

Dale Tate and I (who are, I am told, considered world-renowned experts on guns, gunfit and the techniques needed to tackle these most challenging and exciting of wingshooting birds) will be the instructors.
To add to the atmosphere, there will be Scottish pipers and lots of Haggis, tatties and neeps.
There will be Fine Guns from many of the world's finest makers on display and, of course, ample tall tales and exaggerated myths will be told of amazing feats of wing shooting prowess.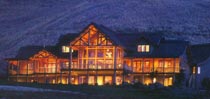 Traditional dress is encouraged and the use of a pair of guns is optional, but loaders are available upon notice.
Please join us for this Three-Day Celebration of Fine Guns, good company, luxurious accommodations, Gourmet dining, Wing Shooting Instruction,and spectacular driven and walked-up Pheasant!
In 2007, Highland Hills Ranch will host two Driven Pheasant Shoots

January 15th, 16th & 17th
January 19th, 20th & 21st
Day One • One Day Wing Shooting School with Chris Batha and Dale Tate. We will cover gunfit, gun, choke and cartridge choice with instruction in both the Churchill Instinctive and Stanbury Swing-through Wing Shooting Techniques. The clay targets will be thrown from traps over 100 feet high to simulate the unique flight characteristics of the Driven Pheasant.
The day will begin at 9AM, and finish at 4:40 PM. All targets plus 12 and 20 gauge ammunition are included.
Day Two • The British Driven Pheasant Shoot starts at 9:00AM, with the drawing of pegs for the shooting stations. Dale and Chris will act as Shoot Captains and assist you in the field with shooting and loading guns throughout the day. (A loader can be provided at a small additional cost if you are shooting a pair of guns.)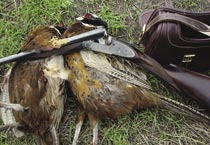 There will be 4 drives of 300 pheasant per drive, for a total bag of 1,200 pheasant. After the first drive, there will be the traditional break for a "Bull Shot", while the pickers-up collect the dead birds.


After the second drive, there will be a break for lunch. Shooting will recommence at 2:00PM and conclude at the end of the fourth drive.
In the Evening, there will be a Display of Fine Guns featuring The Tate Hammerguns, Chris Batha's Charles Boswell Shotguns and the shotguns of FAMARS di Abbiatico & Salvinelli.

Day Three • Traditional Upland Bird Shoot over Pointing Dogs. Given the challenging shooting that the High Driven Pheasant present, a very good average for a team of guns is one in three pheasant shot. This means that there will be some 400 pheasant scattered throughout the cover crops and orchards, offering fantastic and exciting walked-up shooting over some of the best pointing dogs in the USA.
Each evening there will be a cocktail reception followed by a gourmet dinner featuring the culinary specialties for which Highland Hills is so justifiably famous.
The cost of the "Best of The British" Driven Pheasant Shooting Party includes: all lodging (double occupancy* with private bath), Chef-prepared meals, wine and adult beverages, guides, hunting dogs, 12 and 20 gauge cartridges**, clay targets, licenses, permits and packaging of game harvest.

*Single occupancy guests add $350.00
per person, per day.
** 16, 28 and .410 cartridges can be ordered in advance for an additional charge.

The total package is $5,950.00 per Shooter, $2,975.00 for Non-Shooters

Not included: Air travel, shipping of game meat, or coolers. (Transportation to and from the airport can be arranged for an additional charge). Gratuities for Guides and Lodging Staff are not included.
A deposit of 50% is required at the time of booking to secure your reservation. The balance is due 60 days prior to your arrival date. Deposits are non-refundable. If you should be unable to make the dates of your reservation, your deposit will be applied to a future booking or a substitute may be designated to take your place.
To join
The "Best of The British"
Driven Pheasant Shooting Party
Send your deposit check to Sandy Macnab at Highland Hills Ranch,1629 East 12th Street, The Dalles, Oregon 97058. Or you may call 866-478-4868 to confirm by credit card.
Page 3