Ever so often you find a product that's so simply good, you think, "Why hasn't any one ever done this before?" At the last Shot Show, I found GripSwell™ Shooting Gloves and that was exactly my thought! They have redesigned, fabricated and created truly "The Ultimate Shooting Glove"… and even better, they have not forgotten the Side by Side enthusiast in their design.
Made from premium un-dyed goatskin leather, the GripSwell gloves' naturally light colours reflect the sun's heat and perforations on both sides of the glove surfaces offer good ventilation, making this a cool, dry, easy-to-wear glove.
The trigger hand glove features an ergonomic pad made of a special PFM memory foam that fills the anatomical void created when the cupped hand meets the straight wrist of the stock. This was originally designed to enhance the performance of non-palm swell guns on the Sporting Clays course, Trap and Skeet ranges.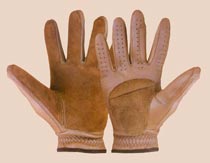 This glove works well with every gun I have used it with - Side by Side, semi- auto and Over and Under, with both single and double triggers, with and without integral palm swells. The Side by Side glove is specifically designed to shield the Side by Side Shooter from burning fingers on barrels with a splinter forend. The extra layers of leather have an insert of special thermal insulation sandwiched in between, so high volume shooting does not mean blistered fingers.

When the Side by Side glove is paired with the ergonomic palm swell for the trigger hand glove, it not only improves grip but the visco-elastic open-cell memory foam absorbs recoil, dissipates heat, while providing maximum comfort, protection, and function.
GripSwell™ gloves come in two shades: un-dyed leather in Natural White for summer target shooting or in Medium Brown for hunting. This glove comes in an insulated model for colder weather. Every GripSwell™ glove is treated with Scotch GuardTM, which repels water, resists stains, and provides long-lasting protection.


For complete product information, call GripSwell at 714-379-9413, or via e-mail: info@GripSwell.com or visit their Website at www.GripSwell.com.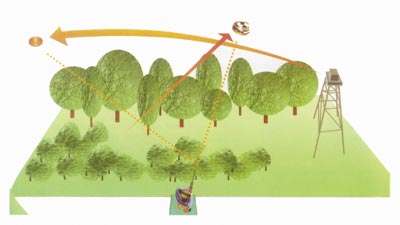 Did you know that regularly playing strategy games for 30 minutes a day improves your ability to focus and concentrate? Research suggests that activities like crossword puzzles, puzzles and board games like chess can substantially lower your chances of dementia in older age!
And how does this apply to Clay Shooting? When you first begin to shoot it is 99% mechanical and only 1% mental. When you are in a competition it is 99% mental and only 1% mechanical! Competitors suffer from mental barriers that occur time after time, tournament after tournament. Even the Top Shots have doubt in self-belief, confidence, commitment, the fear ridicule at a poor performance and so on. All these feelings are the by-product of the stress and tension of "competition nerves".

Coaches are forever encouraging their students to develop a positive mind set! Easily said, but hard done. However, there is a relatively simple way to dramatically improve your focus and concentration….practice a strategy game for half an hour a day.
Success Breeds Success

I, personally, like Chess. These days, you do not even need another person as an opponent. There are many hand-held and computer Chess games that offer challenges at various skill levels. It is a game of concentration, steely-nerves and willpower. Success at Chess breeds more success and an improved mental attitude. The more you play, the better you play, and the better you become.
Research has proven that Chess improves analytic skills – it requires prior planning and decisive decisions, without provocation or dithering. This endless challenge of working out your best move and implementing it is the same strategy applied to reading a target, regardless of the discipline.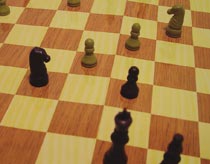 Analytical Skills Improve

Chess playing teaches calm analysis of what you wish to achieve. In shooting, it helps you to define your achievable goals: to straight the stand, to shoot the best score you can, to break every target and win. Strategy games build confidence, competitiveness and mental sharpness. It is so important to practice your problem-solving skills - to be able to decide on a plan, but be able to react and implement problem-solving solutions when it does not work.
Chess replicates the instant "hit and miss" of clay target shooting - immediate punishment for getting it wrong or instant reward for solving the problem and getting it right. Learning and constantly reinforcing the muscle memory of planning, implementing a plan and problem-solving will help hone your mental toughness in the stress of a competition or in a shoot-off. Try it, or as they say in Chess, it's your move!